Season 7 of Selling Sunset was full of chaos, drama, small fights, crazy clothes for open houses, fancy parties, and decisions, and it's not over yet. The long-awaited return of Selling Sunset is coming out tonight. What time does it come out?
The group of the Netflix reality show will get back together to discuss and break down all the drama and events from season 7. Things look like they get very fierce and very hot from the trailer…
As Bre and Chelsea worked out their differences, Chrishell dealt with arguments from Marie-Lou and Nicole. There's one question that everyone has to answer: is he still in love with Chrishell?
Selling Sunset season 7 reunion will be available on Netflix earlier than usual, which is different from how Netflix releases typically shows. By reading this, find out when you can watch the reunion show on Netflix.
When does The Selling Sunset Season 7 Reunion come out?
Decider updates that the much-anticipated reunion show will air on Netflix on November 15, Wednesday night. Here are the Selling Sunset reunion release times for a handful of major time zones, countries and cities:
United States (PT) – 6:00 PM
United States (ET) – 9:00 PM
Canada – 9:00 PM (Toronto), 6:00 PM (Vancouver)
Brazil (Rio De Janiero) – 11:00 PM
United Kingdom (BST) – 2:00 AM (Thursday 16th)
Europe (Central European Time) – 3:00 AM (Thursday 16th)
South Africa (Cape Town, Central Africa Time) – 4:00 AM (Thursday 16th)
India (New Delhi) – 07:30 AM (Thursday 16th)
Indonesia (Jakarta) – 9:00 AM (Thursday 16th)
Philippines (Manila) – 10:00 AM (Thursday 16th)
Hong Kong – 10:00 AM (Thursday 16th)
Singapore – 10:00 AM (Thursday 16th)
Australia – 10:00 AM (Perth), 1:00 PM (Sydney) (Thursday 16th)
Japan (Tokyo) – 11:00 AM (Thursday 16th)
New Zealand (Auckland) – 3:00 PM (Thursday 16th)
How many episodes does Selling Sunset Season 7 Reunion have?
Reality show fans' favourite has 11 episodes and a homecoming special in its seventh season.
How to Watch The Selling Sunset Season 7 Reunion
You can get Netflix for as little as $6.99 a month, but there are ads. There are two more choices: a "standard" service or a "premium" membership that costs $15.49/month or $22.99/month.
Also Read:
Who from the Selling Sunset Season 7 will be at the Reunion?
According to PopBuzz, All of the Oppenheim Group's important people will be at the gathering. From what we saw in the trailer, these people will be in the episode:Her entry also seems like a surprise because of how everyone reacts when Marie-Lou Nurk sits on the couch in the teaser trailer.
Jason Oppenheim
Brett Oppenheim
Chrishell Stause
Emma Hernan
Mary Fitzgerald
Romain Bonnet
Bre Tiesi
Chelsea Lazkani
Amanza Smith
Nicole Young
Getting Selling Also showing up are OC managers Alex Hall, Polly Brindle, Gio Helou, and Brandi Marshall. It could be more apparent if Chrishell's boyfriend, G Flip, will show up briefly, but Chrishell will tell Tan more about their cute relationship than she does now.
Who isn't there for the Selling Sunset Season 7 Reunion?
One person missing from the group picture is Heather Rae El Moussa. She had a baby in January and spent most of season 7 on maternity leave. Also, she wasn't in any of the promotional pictures this season.
Cassandra Dawn is another new cast member from season 7 who wasn't in the reunion picture. It looks like she also won't be going to the reunion.
A lot of the cast members' partners, like Chrishell's boyfriend G Flip, Chelsea's husband Jeff Lazkani, Jason's ex-girlfriend Marie-Lou Nurk, and Nicole's husband Brandon Young, were on Selling Sunset this season, but only Romain and Marie-Lou were at the reunion.
Also Read:
What may happen Selling Sunset Season 7 Reunion?
Fans hope the next episode will be just as intense as the hit episode from 2022, the last meeting after season 5 of the show. The last get-together was full of shocks and new information. The show looked at how Jason Oppenheim and Chrishell Stause dealt after their breakup and how their relationship had changed.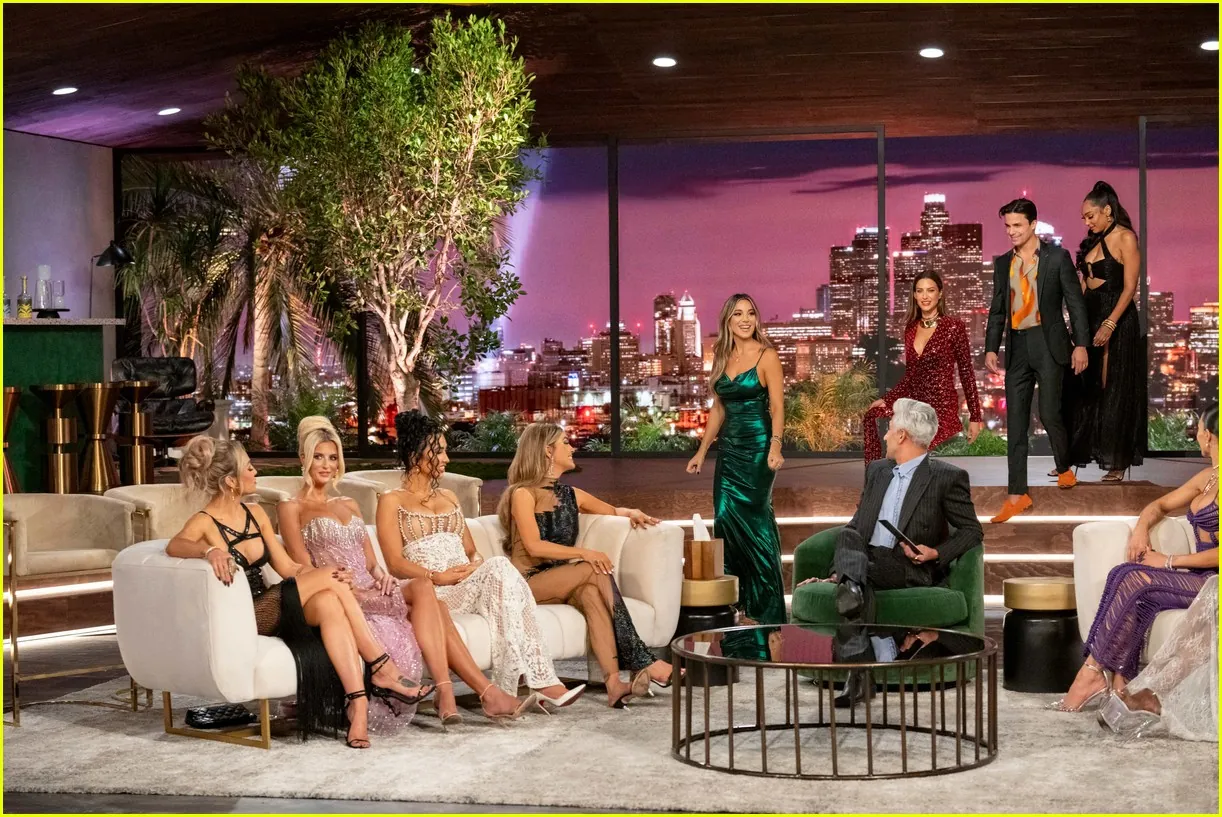 In a shocking turn of events, Chrishell admitted that she is dating G Flip. This added to the complexity of how the cast is changing. As with season 5, Tan France will host the next gathering, and the theme will be "Bare it all." Fans can't wait to see how the unfinished plots play out in the next instalment, full of drama and fun.
Will Selling Sunset have a season 8?
There has yet to be an announcement from Netflix about whether Selling Sunset will return for a ninth season. So… wait for it.
Selling Sunset Season 7 Reunion Trailer
Trust you've uncovered ample information about Selling Sunset Season 7 Reunion. Expand your search and gather more details about other movies featured on Biography VIP.