The movie "Dog," which stars Channing Tatum and Reid Carolin, is a friendly comedy with a profound message. It's about Briggs, a former US Army Ranger who is sent to take Lulu, a Belgian Malinois military working dog, from Washington to Arizona for the funeral of her former master.
When they first meet, they don't get along, and Lulu is pretty mean to him. He does not like her at first, but he slowly changes his mind. As they go through life together, they teach each other about love and life.
"Dog" is a beautiful movie that shows how animals and people can bond and how animals can feel all of our emotions. Briggs's real-life bond experiences and the bond he forms with Lulu make everyone connect with the story and wonder if it's based on real people and events. We'll figure it out for you if you're also interested. Let's jump right in!
Does 'Dog' 2022 come from a true story?
Yes! The story of "Dog" comes from an actual event. Part of what it's about comes from the real life of Channing Tatum, who plays Briggs and directs the movie.
He loved his late dog, Lulu, so the furry heroine is named after her. Tatum's friends saved him from the pound in 2008 when he was a mix of a Pitbull and a Catahoula. She had been with him for eleven years before she died of cancer in December 2018.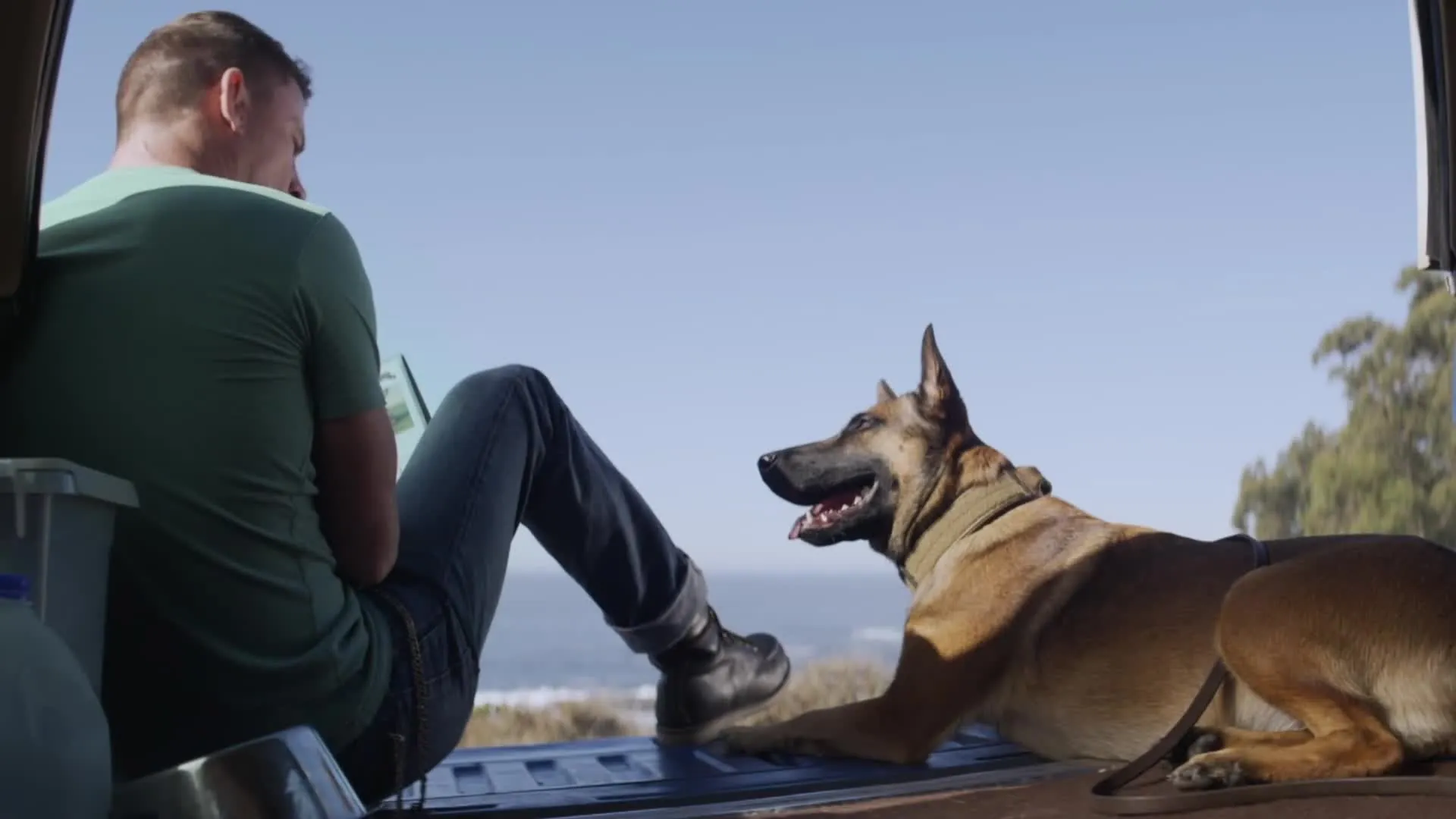 Tatum wanted to work on the movie with Reid Carolin, his longtime partner and co-director. Carolin and Brett Rodriguez wrote the script together. Briggs and Lulu's road trip is based partly on one of the actor's last road trips with his late dog.
He talked about her warmly in an interview, saying, "Lulu was my little shadow." "She meant the world to me and was my best friend… Her battle with cancer was brave. But I kept her in the fight for too long, which was sad. "I am sorry."
A little over a year ago I got back from a road trip where I said goodbye to my best friend. Now I'm making a movie inspired by her. So proud to announce that DOG will be released by @MGM_Studios and in theaters next Valentine's Day weekend. pic.twitter.com/JXDqEy85JZ

— Channing Tatum (@channingtatum) March 2, 2020
Where Did the Idea for "Dog" Come From?
Even though "Dog" isn't based on actual events, Tatum made the movie because of Lulu's death. Deadline says that talks about the film started as early as November 2019, almost a year after Tatum lost Lulu. Tatum and Reid Carolin, who wrote "Magic Mike," "Magic Mike XXL," and "Magic Mike's Last Dance," are both co-directing the movie.
Tatum also stars in it. Tatum told people on Twitter about the news and paid tribute to Lulu when the filming began in early 2020. In an honest post, the star said, "A little over a year ago, I got back from a road trip where I said goodbye to my best friend." I'm now making a movie based on her." The trailer for "Dog" and Tatum's link to the movie makes us think that the film will make us laugh and cry simultaneously.
Also Read:
Cast of the comedy-drama movie "Dog."
Channing Tatum plays parts in the movie "Dog." Five actors play different roles in the film: Luke Forbes plays Jones, Kevin Nash plays Gus, Jane Adams plays Tamara, Junes Zahdi plays Dr. Al-Farid, Ethan Suplee plays Noah, Emmy Raver-Lampman plays Bella, Nicole LaLiberte plays Zoe, and Aqueela Zoll plays Callan.
What Happens in the Movie "Dog"?
In "Dog," two ex-Army Rangers are forced to go on a road trip of a lifetime together and get into all sorts of trouble. Briggs (Channing Tatum), an Army Ranger, and Lulu, his Belgian Malinois dog, get into a 1984 Ford Bronco and race down the Pacific Coast, trying to get there in time to bury a fellow soldier.They'll drive each other crazy, break a few rules, come very close to dying, and learn how to let down their guard to have a chance at happiness.
Where Can I Watch "Dog"?
Unfortunately, Netflix doesn't have it, but if you pay for a premium Amazon Prime membership, you can watch it. The movie came out in the US on February 18, 2022, through United Artists Releasing. You can also watch the film "The Dog" on Fandor, Fandor Amazon Channel, and Hoopla. On Tubi TV, Pluto TV, and VUDU Free, there are ads.
I strongly believe that you could find enough information about the movie "Dog". Please share this post and tell us what you think in the comments. And remember to keep visiting our website, Biography VIP, for more news.